Mortgage Guide
WHAT IS A MORTGAGE?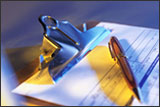 A mortgage is a loan secured by a lien on your home. A lien can be defined as the right to take and hold or sell the property of a debtor as security or payment for a debt. The amount of your mortgage is usually the purchase price of the home less your down payment.
There are many different types of mortgages, including many less common types of mortgages such as balloon mortgages and construction mortgages, but the two most-commons types of mortgages are Variable and Fixed-Rate mortgages.
Fixed rate mortgages are popular and most-frequently chosen because of the high level of security and stability they provide. These mortgages range in length from 6 months to 25 years and guarantee a fixed monthly payment at an agreed upon interest rate, regardless of fluctuations in the market. They work well for people on limited or fixed incomes and people who prefer to have consistency in their payment schedules.
Variable rate mortgages, also known as adjustable rate mortgages (ARM), have lower interest rates than their fixed rate counterparts but rise and fall according to the market. After a predetermined period, the rates are usually adjusted every couple of months to allow for changes in the market. Variable mortgage rates give consumers greater control and flexibility. These loans can be worth considering if you plan on staying in your home for a short period of time, if you have a small income but plan on making more in the future, if you're looking for lower initial payments, or if you feel comfortable knowing that you may have to make larger payments in the future.
PRE-QUALIFICATION VERSUS PRE-APPROVAL
When searching for a mortgage provider, it is important to know and understand which upfront services will be crucial in your search for a property.
Pre-Qualification:
First, remember that it's difficult for a mortgage provider to give you good advice without knowing your situation completely. A pre-qualification is simply a comparison of income to debt according to industry qualification standard ratios, and will tell you the price range of the loan you qualify for. No approval status is offered in a pre-qualification.
Pre-Approval:
A pre-approval is a conditional loan by a mortgage provider. It is much more in-depth than a pre-qualification and is highly recommended early in the home buying process. Pre-approval makes it possible for the mortgage provider to give you more accurate advice because they have a better understanding of your situation.
Pre-approval is usually provided by you to the seller when you make a bid on a property. This way, when a competing bid is submitted with only a pre-qualification, your pre-approval demonstrates that you are a more qualified buyer and greatly increase your chances of winning that bid. Ask the mortgage provider if they offer a program that will allow you to send and clear your pre-approval loan conditions and offer you a protection option for your rate during the home search process. Having your pre-approved loan conditions cleared puts you in a strong negotiating position with prospective sellers, and also strengthens your pre-approval that much more.
MORTGAGE RATE OPTIONS DEFINED
Outlined below are the rate options offered by most mortgage providers. Pay close attention to the duration of any lock option you commit to.
The Straight Lock Rate: In this option, the rate won't change as the market moves. When you exercise this option, your rate will remain the same for the duration of the loan.
The Locked Rate with a Float-Down Option: This option allows you to secure a rate with the opportunity to lock into the lower rate if rates go down. Typically, this option gives you one chance to lock your rate, and most mortgage providers require you to check rates yourself to see if they've dropped.
The Floating Interest Rate: This option offers no rate protection and is the most risky of all. Every day, the rate is adjusted to the market. This is usually the rate a mortgage company will quote you when you call. You may want to think twice about heeding the advice of someone who recommends that you float your interest rate.
In not closing a locked duration upfront, you subject yourself to the loss of your rate. For example, if you've decided to buy a property and the closing date is 30 days away, and you've locked into a rate for 30 days, if something goes wrong during the process and you end up closing in 35 days, you'll lose the rate you locked into if rates go up.
FINDING THE BEST RATE
Choosing the right mortgage provider can mean the most savings upfront, the lowest rate, and the smoothest processing and closing available. But choosing the right mortgage provider isn't always easy. To make this process as easy for you as possible, this section of the Mortgage Guide provides important questions to ask potential candidates to see if they're worth your time.
Step One: Once you've outlined the basic details below, start your search for your mortgage provider.
The loan amount you're seeking.
The closing date.
The product you're seeking.
The term of the loan you're seeking. For example,. 30 year fixed, 15 year fixed, 7 year adjustable rate mortgage, etc.
Every time you receive a rate quote from a mortgage provider, have them email or fax you a Good Faith Estimate (GFE). It is useless to have a rate quote mailed to you, unless it is shipped overnight, since rate quotes from mortgage providers can expire at any time. If you can't have a GFE sent to you, ask the mortgage provider to go over all of their lenders fees.
Step Two: Create your short list.
Below you will find important questions to ask a mortgage provider to determine if you want to even consider what they have to offer.
Will they provide you a free Good Faith Estimate (GFE) on rates and costs before you decide to use their services?

This is crucial. A GFE is a price tag. If a mortgage provider won't agree to provide a GFE before you agree to go with them, you should strongly consider going some place else for your mortgage. Think of it this way: Before you buy something at store, you look at the price tag first. It shouldn't be any different with your mortgage.

How long has the company been in business?

Because of the recent lower-than-average rates, many new mortgage companies have opened to take advantage of the surge in the mortgage business. If the mortgage provider has been in business for less than a year or two, ask what previous experience they have that relates to the business of mortgages.

How is the loan officer paid?

The way the loan officer is paid can play a big role in the rate they quote you. When a loan officer is paid based on a percentage of the loan amount, it is not uncommon for them to add an overage to your rate. An overage is an amount that is added to a base rate to improve their compensation. The loan officer usually isn't giving you the best rate available if the loan officer is paid a percentage of your loan.

For example, you would like to purchase a home where the loan amount will be $100,000: the loan officer you are working with could offer you a rate of 7% with zero points. Instead, the loan officer quotes you 7% with one point. One point is 1% of the loan amount, which would equal $1,000 in our example.

Do they have prepayment penalties?

A prepayment penalty is a fee charged by the mortgage provider, in addition to the principle and interest, if you pay your mortgage off before the agreed upon period of time. It is wise to stay clear of prepayment penalties. You never know when you may have to sell the property.

Sometimes, lenders only have prepayment penalties on certain types of loans. If the mortgage provider says prepayment penalties exist with some of their programs, make sure they clarify with which of their programs these penalties exist.

At what point can you lock your loan, and what lock options are offered?

This question should be answered by all service providers you encounter during your search. When locking a rate, the mortgage provider should first go through a mortgage application and credit check with you. Not completing this information upfront leaves too many opportunities for the provider to adjust your rate in the process of getting you the loan. Also, ask the provider what lock options are available and whether or not your rate can be lowered during the process of getting the loan if rates drop while you are shopping for a property.

Will they charge you to lock your rate?

Most mortgage providers you speak to are going to charge you something to secure a rate. Find out how much each will charge and what happens if the property you intend to purchase falls through, and then compare.

For what period of time can you lock your rate?

The period of time you can lock your rate for upfront is an important factor in closing with the same rate you lock into in the beginning. If the mortgage provider tells you that you can only lock your rate for thirty days, but you're not closing for sixty, move on to the next mortgage provider or run the risk of paying more when you finally close.

Do they outsource the underwriting and processing or is it handled in-house?

If any part of the process is outsourced by the provider, you'll be working with more than just one company in obtaining your mortgage. Who are the third party service providers and what quality of service do they provide?
Step Three: Decide which mortgage company you're most comfortable with. Here are some questions to consider:
Do they provide pre-approval free of charge?
Does the loan officer return your calls quickly? Are your conversations followed up with in writing?
Is the mortgage company upfront with their fees?
Do they have guarantees promoting good service?
Step Four: Making the decision.
"The mortgage provider has the best service, but not the best rate."
The best way to get the mortgage provider to reduce their rate is to tell them that they are not the best rate you've found. Tell them you're ready to sign if they can match the competitor's rate. Most mortgage providers are willing to meet their competitor's rate if it's the only way to secure your business.
If, however, the mortgage provider can't or won't meet their competitor's rate, you need to make a decision: Is the better service worth the higher rate? It's true, good service is hard to find. There are, however, enough mortgage providers out there that you should be able to find what you are looking for. This process can take some time, but the savings and ease that result from taking the time to do it right are well-worth it.
"The mortgage provider has the best rate and the best service."
If this is the case, it's pretty safe to say you're getting everything you could hope for from a mortgage provider. But that's not to say you can't save even more money. You can still ask the mortgage provider to waive some of their fees, such as the appraisal, application, underwriting, and/or credit report fee.
Most mortgage providers have room to maneuver with their rate and fees. It doesn't hurt to ask. You'll likely get an additional discount. Just don't get too greedy. If you're getting a good deal, take it.
THE ZERO-DOWN MORTGAGE
So you want to purchase a property with no down-payment upfront. Many lending institutions provide such options, but zero-down mortgages come with very stringent guidelines. For starters, you will likely need to have a perfect credit rating. In the words of one lending institution we spoke with, "If you've ever been late paying a bill, you probably won't be approved."
Genworth Financial Canada (gefinancial.ca), and the banks they underwrite zero-down loans for, provides the zero-down mortgage in the form of cash back on the loan upfront, effectively paying the down-payment for you. As a result, the interest rates charged are generally higher than if you had the down-payment and big penalties result if you try to get out of the mortgage early. Penalties in the form of both a standard penalty plus a pro-rated penalty based on the cash-back amount the lender provided are common. This means that you could be penalized for upwards of $10,000 or $15,000 for not completing your end of the agreement.
Eligible properties typically include primary and secondary residences, new construction or existing properties. Borrowers must demonstrate their ability to cover closing costs, including mortgage insurance application fees and sales taxes if applicable, of at least 1.5% of the purchase price. These funds may be borrowed provided any associated repayments are included in the TDS calculation based on a 12-month repayment period.
Understanding the terms thoroughly before signing is of paramount importance when considering any mortgage, so be diligent.
GETTING APPROVED DESPITE POOR CREDIT
Getting approved for a mortgage when you have poor credit can be much more difficult. The success or failure of securing a mortgage with bad credit very much depends on your individual situation and the effective presentation of your situation to lenders. This is where mortgage brokers come into play.
Because successful mortgage brokers refer extremely high volumes of business to lenders, these mortgage brokers may have the leverage needed to get the lender to agree to give you the loan. These situations, however, are risky for the mortgage broker. Unless the mortgage broker successfully secures the needed loan for you, they don't get paid. The best way to approach this situation is to be honest and upfront. If you have bad credit, don't waste your time with mortgage brokers that won't be willing to work with you. Tell the mortgage broker upfront "I have bad credit and I need this mortgage. Can you help me?"
If the mortgage broker is willing to help, they'll tell you how to proceed. To speed this process, have as many details relating to your financial situation available as possible in advance, and work with the broker to fill in whatever details may be missing. Before attempting to secure a mortgage with poor credit, it's important that you first accept that your rate will be higher than a rate for a mortgage given to someone with good credit, so be prepared for the higher interest. What's true with getting approved for a mortgage with poor credit is true for the interest rate that you will end up with: It will depend on your unique situation and what the mortgage broker is able to work out on your behalf. Just remember to shop around and compare GFEs (Good Faith Estimates) before you sign.
MORTGAGE PROCESSING AND CLOSURE
When you know what to expect, processing your loan will go a lot smoother. This final section will discuss the process A to Z, from the point you choose a lender until close.
When you've reached an agreement to purchase a home, contact the loan officer of the mortgage provider you've chosen and fax your contract to them as soon as possible. At that time, you should also provide your loan officer:
The full property address;
The closing date outlined in the purchase agreement; and
The name of the owner or condo association, as well as the association's address, a contact person, and a contact number.

Not providing this information to your mortgage provider upfront can slow their ability to process your loan.
You should then ask the lender for the conditions of the loan and take note of those you're responsible for, for example verifying your income and assets, etc.
Usually you'll receive a loan package within 3 business days once you've registered your loan with your mortgage provider. Within those 3 days, you should prepare the conditions you were given by your mortgage provider and have them ready to be returned. If you would like to change the program at any time, call your mortgage provider for their advice and ask them what steps must be taken. And don't forget to get it in writing.
Along with your loan package, you should be provided copies of all documentation for your personal records. Review the documentation thoroughly, input your prepared conditions, sign where required, and return the package to the mortgage provider as soon as possible. Your package should also contain the name of your processor.
Contact your processor and inform them when the package will be returned, and let them answer any questions you have.
Finally, you're ready to close. Make sure the processor has scheduled the closing with the title company and that your loan conditions are reviewed. Be careful not to miss your commitment date. The commitment date is a period of time between your contract and your closing date when the seller can request that your loan conditions are reviewed, and the appraisal is completed and reviewed. This commitment gives the seller the comfort of knowing that you are totally approved for your loan.
* You should consider using the service of a Licensed Mortgage Agent to navigate the many aspects of negotiating a great rate and finding the best terms for a mortgage. Although the common term is Mortgage Broker the proper term is Mortgage Agent.
Why to use a Mortgage Agent:
Strong relationship with lenders means better rates.
Familiarity with various mortgage products insures you get have all the options available to you in your current situation.
Most do not charge a fee.
Want a relationship with you beyond the purchase of your home for future mortgage renewals and future purchases so their greatest concern should be that you are completely satisfied with your rate/lender/mortgage process.
To ask a Mortgage Question or to find Answers to the most commonly asked Questions in the field Click Here.