FSBO Guide Section 5: Negotiations and Contracts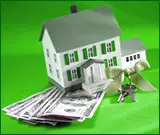 Your real estate lawyer will be on hand to advise you throughout this part of the sale. Review the information below, but don't feel you need to understand every potential pitfall in a contract; your lawyer is there to explain all the terms to you, and ensure you sign the deal that is right for you.
Your lawyer may provide you with the necessary forms, such as a standard sales contract, or you can obtain them through our affiliate LegalDeeds.com.
It's important when faced with a serious buyer to be sure to request all offers to be put in writing, and to make no verbal agreements. Someone who has seen the house and is eager to start talking price right away may just be fishing around for more information, trying to see if you will budge on the price. If the buyer really is enthusiastic, then you will both benefit from having your respective lawyers involved from the start, to avoid any confusion or misunderstanding.
Be prepared to be disappointed; there will likely be many window-shoppers and near misses. Remember that of all the people interested in your house, it only takes one buyer; be patient and persevere.
If the buyer has an agent representing them, it is important you make it clear your asking price does not include a commission. If the buyer insists on using the agent and is willing to add the commission fee to the final sales price, make sure this is reflected in the final price they offer in writing.
If the agent threatens to redirect a serious buyer, it is up to you if you are willing to negotiate with the agent as to a commission. If you are not ready to pay 2.5 or 3% of the sales price (the buyer's agent and sales agent normally split the typical 5-6% commission), then you can offer a lower amount you feel is fair. You may even decide on an amount up front and state so clearly on your sales materials (ex., sales price includes a $500 finder's fee for buyer agent).
Pre-qualifying potential buyers
Pre-qualifying a serious buyer is very important. Pre-qualifying a buyer allows you to ensure they qualify for the mortgage loan they would need to buy your house. If you reach a sales agreement with a buyer whose financing does not come through, while you have already committed to buying a new house, you could be in for a long and embroiled legal battle.
A major lender will be able to do this for you. You can choose one ahead of time, and refer serious, interested buyers to them to see if they qualify for financing. Remember that your sales price is also an important factor in qualifying a buyer; if you've set the price too high above fair market value, the lender will not approve financing. In fact, lenders will often order an appraisal of the property to make sure the price is fair.
If the buyer has already been pre-qualified by an institution, have it reviewed by your lender. If the buyer is depending on the sale of their own house in order to buy yours, they will want to make sure they qualify for bridge financing to make sure they can follow through with the purchase before their house has sold. Otherwise they will need to make a contingency offer on your house, subject to the sale of their own house.
There are a number of different kinds of mortgage lenders, including banks, trust companies, credit unions, caisses populaires, pension funds, insurance and finance companies. The buyer may also want to use a mortgage broker, who will shop around for the best deal.
Contact the Canadian Association of Accredited Mortgage Professionals to find a lender in your area (British Columbia, Alberta and Ontario have separate divisions), or visit PropertySold's Mortgage Guide to find out more about pre-qualifying buyers, finding the right lender and more.
Disclosure
Disclosure laws vary from province to province. Consult with your real estate lawyer to find out exactly what you are required by law to disclose. Generally, any conditions that make the property dangerous or unfit to live are required to be disclosed.
A buyer will sometimes request a property disclosure statement.
This is a sticky issue. Real estate agents will usually ask sellers to fill out a property disclosure statement as a matter of course, one drafted by the local real estate board. They consist of a series of open-ended, and yes/no questions, designed to make the buyer aware of any physical or legal problems with the property that you are aware of. These are not documents required by law in Canada, although once signed, they can be legally binding and even against you used in later lawsuits.
Some legal experts have warned against the use of property disclosure statements for this reason. Your real estate lawyer will tell you whether it is advisable to sign one.
Getting a property inspection ahead of time may save you a lot of headaches with respect to disclosure, as well as make you aware of any potential problems with your home. You can make the inspection report available to serious buyers, and they can also choose to have their own inspection done. For a few hundred dollars, having an expert look over the property seems the best way to bring any major issues to light, and avoid later problems.
Offers of purchase
Once you've found your serious, pre-qualified buyer you are ready to receive their offer of purchase. The offer will include the price they are willing to pay, exactly what they expect to be included in the sale, the closing date, and any conditions to the sale.
There is also an 'irrevocability period', usually of 24 to 72 hours, in which you may accept the offer. After the irrevocability period lapses, the offer becomes null and void.
Always have the contract reviewed by your lawyer. If you agree to all of the terms in the offer, you can sign your acceptance, at which point you have a sales agreement.
Counter-offers
If you do not agree to all of the terms in the contract, you and your lawyer can present a counter-offer. This is where the real negotiations take place.
The buyer may have offered a much lower price than your asking price. You may be willing to meet them half-way (remember your 'bottom line' figure). If you have more than one offer at a time, you might be in a position to pick and choose the better offer.
It is important however to present only one counter-offer at a time. These are serious contracts and if accepted, are legally binding.
The buyer may present another counter-offer, haggling over price, dates, what is included in the sale; this will go back and forth until the two of you have reached a mutual agreement, or the deal may simply fall through.
If this is the case, be patient. You do not have to accept terms you are not happy with just because someone showed an interest in your house. Wait for a better offer, one that lets you walk away with your bottom line intact.
Fixtures and chattels
In your counter-offer, you must be very specific about what is included in the sale of the home.
Chattels are movable items, such as appliances, satellite dishes, etc, that are not normally included in the sale of a home. Fixtures, however, are considered permanent improvements to a home, and are understood to be included.
Distinguishing between the two is not always easy, so be very explicit and do not assume that anything is 'understood'. If you do not want to leave that antique light fixture out front, make sure it is written into the contract.
If you intend to leave to leave chattels behind, like a hot-tub, then this should be stated in your counter-offer, and the price adjusted accordingly.
Revising your own situation
Your willingness to accept an offer might depend on a lot of changing circumstances, so think carefully about your bottom line as you review offers. Are you pressed for time? Have you already found a house of your own to buy? Have the market conditions changed?
Any and all of these factors might change your bottom line, and an offer that is $5000 below your bottom-line price might be a good offer if the bottom has fallen out of the housing market.
Conversely, you might have just found out the city will be converting that old used lot behind your house into a beautiful park – so it might be wise to increase your asking price!
As carefully as you worked out your position at the start of this process, be prepared to revise it along the way.
Deposits for serious offers
A serious offer will usually come with a deposit, the amount of which can vary. This money is held in trust, or escrow, by either the buyer or the seller's lawyer. It is written into the contract, and deducted from the total amount payable upon closing.
Contract dates
There are three dates written into a real property sales contract (other than the date of offer):
The Completion Date: this is the date when title is transferred from the seller to the buyer. The lawyers must complete their part in the title transfer by this date, so a weekday is usually best.
The Adjustment Date: tThis date is when the buyer assumes responsibility for property taxes, utility bills and the like; it is usually the same as the completion date.
The Possession Date:
This is the date the buyer takes possession of the property. Usually it is very close to the completion date, falling on a weekend to make the move easier for both parties; however some situations may arise where the new owner does not need to take immediate possession of the house (such as hurrying the completion date to avoid a new tax, before either party is ready to physically move). Having this date separate allows for flexibility.
Terms and conditions
Any number of conditions can be written into a sales agreement, all of which must be satisfied (waived) in order for the agreement to come into full force. For example, the buyer may specify the offer is conditional having the home professionally inspected, or on securing financing by a certain date. If any of the conditions are not met, then the offer will become null and void.
Frustrating as a situation like this can be, it is better to have these conditions written in rather than have them arise and leave both parties scrambling. For example, if the buyer does not receive financing, and can't pay for the house, this could seriously undermine your ability to pay for the house you just signed for.
If the buyer is depending on the sale if their own house in order to buy yours, they will want to make sure they qualify for bridge financing, to make sure they can follow through with the purchase before their house has sold; otherwise, they may need to make the offer on your house conditional on the sale of their own house.
This could potentially tie up the sale of your house indefinitely, as you wait for the buyer to sell his/her home. In order to avoid being left in limbo, your lawyer can write in a clause to put a time limit on the contingency (forcing the buyer to follow through with the purchase of your house, or nullify the contract) or to allow you to give the buyer notice if you receive another offer on your house, allowing them a set period (say, 3 days) to follow through with the purchase or nullify the contract.
Proceed to: FSBO Guide Section 6: Closing the Deal