FSBO Guide Section 3: Putting Your Home On The Market
Now that your home is ready to be seen, it is time to put it up for sale.
Hiring a real estate lawyer
The first thing you will want to do is hire a real estate lawyer. All real estate transactions will at some point require legal services to perform title searches and transfers, whether a real estate agent is involved or not, so hiring a real estate lawyer early on is wise. A real estate lawyer (notary in Quebec ) can also:
make sure there are no liens or other legal orders on the property, and review offers/agreements of purchase
help you evaluate complicated sales offers
act as an escrow agent to hold any fund transfers (eg. down payments)
evaluate complicated mortgages, leases
review contracts and the closing process for the sale
tell you what you will need to disclose to potential buyers about your home prior to the sale (you are legally obligated to provide a disclosure)
help you acquire title insurance
The Canadian Mortgage and Housing Corporation has a useful checklist of questions to ask when shopping around for a lawyer/notary.
Setting a price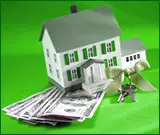 Setting a fair market price for your home can seem daunting, but you have a number of different approaches you can take to help you find the right figure. Keep in mind that while you want to get the best possible price, setting it too high will not only discourage buyers, but it may prevent interested buyers from obtaining financing.
If you are selling a condo, determining the fair market price simple – find out what other condos in your unit have sold for. Most units tend to be very similar.
If you are not comfortable setting your own price, or simply don't have the time to do the required research, a professional appraisal is a good short-cut. The cost is usually from $250-$350. This will also provide with solid documentation to show prospective buyers to back up your asking price, come time for negotiation. The
If you are willing to do the legwork, a good place to start is with the assessed value of your property for tax purposes. While this figure does not usually reflect market conditions, it can provide you with a baseline. If you do not know your assessed value for property tax, check with your mortgage company (often your mortgage lender pays the taxes for you as well), or visit one of the following sites:
Some provinces allow you to do open searches, while others may require you to register or pay. You can also search for your city's tax assessor, as taxes are often levied at the municipal level. If you have the option to search property appraisals by address, seek out other homes in your neighborhood that you feel compare to yours, and find out their assessed value. This will help you get a feel for the price range your home will fall in.
The next step you can take in pricing your home is finding out what other properties in your neighborhood are selling for. There are a number of ways to do this:
Check listings on PropertySold.ca and MLS.ca
Drive around your neighborhood and look for the 'For Sale' or 'Sold' signs. You can the number listed to find out the asking/selling price.
If possible, attend any open houses, or ask for a showing. This will give you a lot more information so you can compare values. Bring a notepad and write down the similarities, and differences, to your own home.
Ask a local real estate agent for listings of homes in your neighborhood with features similar to yours. Be up front about why you are requesting it; they may still be willing to help you, in hopes of persuading you to use their services.
The most important features that will help you compare your home to others are
neighborhood
age of the house
total square footage of the house
number of bedrooms and bathrooms
total size of the property
Consider very plainly whether your home is on par with those homes, and why not. Eliminate any personal reasons (emotional reasons) from the list, and consider again. Does your home have more yard space? Does it back onto a park? Do you have a shade tree? Swimming pool? What sets your home apart, and does it increase or decrease the value? Is your basement finished or unfinished? Are the appliances new or old? Do you have parking? Does your home have a rental unit for income value? All of these things will factor in. Try to estimate what each item is worth, and add or subtract accordingly.
Now think about your time frame. If you need to sell quickly, setting your price just below the market value will make it more attractive. If you can afford to wait for the right buyer to come along, set your price slightly higher – but remember that the final sales price will always be subject to some negotiation; homes sold by owner might be expected to offer a bargain for the buyer as well as the seller. Also, homes that are priced too high above market value may make it difficult for the buyer to qualify for a mortgage.
Your bottom line
Your bottom line is a complex figure that takes into account your asking price, your costs, and changing conditions. Basically, it is what you are prepared to walk away with in your pocket.
To determine what it should be, think about the following:
How much are you willing to invest in selling your home? Some costs are necessary, such as advertising, and a real estate lawyer. Other expenses are optional, but may save you headaches or even get you a higher sales price, such as small renovations, home inspection and professional appraisals. Draw up a list of necessary and optional expenses. Don't forget any municipal, provincial or federal sales taxes, capital gains taxes, mortgage fees, and the cost of moving.
Once you've decided what you need to spend, and what you would like to spend to spruce up your home or fix some problems, subtract that from your 'lowest possible selling price' – namely, the low end of the price range your home falls in. This will give you your bottom line. Is it lower than you'd hoped? If so, look again at your expenses, and see if you can trim them back, without affecting your sales price. For example, if you were thinking about hiring a professional contractor to finish the patio, make sure a finished patio will really add to your home's value. Remember, a buyer may have different ideas for the backyard so expensive renovations might be counter-productive.
Once you've balanced your expenses with the lowest possible offer you can accept on your house, you are ready to set your asking price. The asking price should always be higher than the lowest price you would accept on your home, so you have room to negotiate, but it also can't go too high – you are not the only one who is evaluating your property's worth. Both the buyer (their agent if they have one) and the mortgage company will be assessing a fair market price, and you can't afford to have your asking price too far out of reach.
Finally, remember that your bottom line price may change during the process; it can change as market conditions change, or with your time frame for selling. If you have found the house of your dreams at a great price, you may be willing to sell yours a little lower to make sure you can close the deal. Also, always keep your 'lowest possible price' completely confidential, even with friends and family, as they might be the ones to refer a buyer to you.
Advertising
Advertising your home can take many forms, and you will want to invest in several to make sure you are reaching as many potential buyers as possible. A buyer's very first impression of your home will be likely be through your ad, whether it be an online listing, print ad or yard sign, so it's important to get it right.
Your goal is to reach as broad an audience as possible, and convince them to come see your house. If you can get the right buyer in the door, then your property (carefully prepped!) sells itself.
Writing a Sales Ad
How you write an ad will depend a lot of where it will be placed. It's important to stand out – unless you catch their eye, most people will only glance over an ad or a listing, so no matter how much useful information you've packed in there, you have to spark their interest early.
In all written materials, make sure your spelling and grammar are accurate. If you are not sure, have a friend review them to catch any mistakes. Even word processors will allow simple errors, and a mistake-riddled ad always looks unprofessional. Browse through listings at PropertySold.ca and MLS.ca, and try to notice what grabs your attention, and what turns you off. Whatever is interesting to you, is also what will attract a potential buyer to your ad.
Stay to the point. Include relevant facts about your property, such as the number of bedrooms and bathrooms, square footage, etc. Keep your descriptions concise ('stunning valley view', for example, rather than a full paragraph on the beauty of the morning sunrise from the deck). If your property has special features (such as great investment opportunity, close to subway, etc.) be sure to include them early on.
Write only positive features, and keep it minimal. The following are good examples of features worth noting:
Location: is your property in a quiet neighborhood, a new subdivision, on a lake?
View: does your property overlook the ocean, a golf course, a valley?
Space: how many bathrooms, bedrooms, office/alternate spaces does your property have? Does it have a big kitchen, master suite, backyard? What about storage, garage?
Amenities: does the house have central air, a fireplace, hot-tub, satellite dish included, security system, a finished basement?
Cost-saving: is your home energy efficient? Are the property taxes low in your neighborhood?
Special features: does the property come with a income-earning unit (i.e., basement apartment)? Is it zoned for work/live use? Does the property have its own well?
Photos
Photographs are one the most important features of any ad. People are more likely to look at pictures than read the text when deciding whether your property interests them. Include as many photos with your online listing as you are allowed (with Propertysold you can include up to 20 images with your listing).
Here are a few tips for taking photos of your property:
Make sure to take both interior and exterior pictures along with pictures of any special features on your property such as a pool or fireplace.
Do not include people in your pictures.
Before you take your pictures, make sure the rooms are well-lit; turn on all indoor lights, and open the curtains wide. If it is a sunny day outside, do not take a picture facing the window, as that will make the inside of the room look dark.
For outdoor pictures, morning or afternoon offers the best light. Look at your house from several angles to choose the best one. Try to avoid power lines and cars in your picture. Move your car from the driveway if necessary. If you have a nice front lawn, or a shade tree, include it in the photo. If you're taking photos in winter, pictures after a freshly-fallen snow look better than old grey snow-banks; fall shots can show off beautiful colors, while spring and summer can highlight showy gardens.
Make sure the house is clean and ready for showing when you take a picture; there is little point in landscaping if your ad photos don't show it.
Online listing
An online listing will allow you to reach the widest range of buyers possible. The Internet has become an invaluable resource for both sellers and buyers; in fact, according to the National Association of Realtors, the vast majority of home buyers use the internet as a source of information. Where real estate agents used to have nearly exclusive access to a nationwide listing database (the Multiple Listing Service, or MLS), anyone with an internet connection can now search for the properties they want, where they want.
Online listings are also likely to be browsed by buyer's agents; it's up to you to decide whether you are willing to pay out the commission to sell to one of their clients (usually 2.5-3% of the sale price), negotiate to have the fee tacked on to the sale price, or simple decide on a flat fee.
PropertySold.ca offers you a comprehensive online property profile, with exposure to more than 5,000 daily visitors to the site.
Listings on our website are indexed by the major search engines and receive direct traffic from internet searches in addition to our main website traffic.
We also recommend posting classified ads on free, high-traffic sites like Craigslist.org, Kijiji.ca, and Adpost.com. Again, there is no such thing as too much exposure – the key is to identify the sites where your ad is most likely to be seen.
Classified ads
Classified ads are a good way to extend your marketing reach, but they need to be short and sweet. PropertySold offers an excellent guide to writing a classified ad.
Classified ads can be placed both online and in print, so set a budget for how much you are willing to spend, and take the time to look at local publications to see which will give you the best value. Weekend newspaper editions tend to be more expensive than weekday, and neighborhood publications are more relevant than national ones, for example. You may also want to consider writing two or three ads, and rotating them regularly to keep them 'fresh'.
Also, if any of the details in the ad should change (such as price!) be sure to change the ad as soon as possible.
Lawn and corner signs
A lawn sign is one of the most powerful marketing tools available to the home seller, alerting neighbors and passerbys that your home is on the market. It should include your contact details and the address (URL) of your online listing. Many prospective buyers will scout out a desirable neighborhood and a lawn sign will act as a beacon. A professionally designed yard sign, such as those supplied by PropertySold, improves your credibility and drives buyers to your online listing where they can get more information. We also provide bi-directional corner signs, to extend your 'field of view'.
Feature sheets
Feature sheets are a one or two page document with photos, features and description of your property, contact deals and online listing URL. They are useful handouts for various occasions, such as open houses. PropertySold offers printable feature sheets of your online listing. Make color copies and distribute them to as many busy places as you can such as your office, gym, local supermarkets and libraries. Optionally, you can make them available in a box near your yard sign for passerby traffic to grab.
Email friends and family
Once you have an online property listing set up, be sure to send out an email letting friends and family know your house if for sale, the URL of the listing, and how much you would appreciate any referrals. Word of mouth can't be underestimated!
Setting up to receive calls
Once you've begun marketing your property, you have to be prepared for the response. If your residential line offers voicemail, you may want to set up a dedicated mailbox for sales inquiries (contact your local telephone service provider). This way, the caller can choose to hear a message offering basic details of the house, any open house information, even a cell phone to reach you on. Messages left on the dedicated mailbox will be separate from personal messages, making it easier to track them.
When an interested buyer calls, make sure your only objective is to convince them to come see the house, not to sell it over the phone. Have all your fact sheets on hand (you may want to keep a copy of your feature sheet by the phone).
Ensure that everyone who may answer the phone knows to be very professional and polite when dealing with interested buyers.
Have an organized message-taking system in place, so that calls can be returned promptly.

If you have set up an email address for inquiries, be sure to check it regularly and answer as soon as possible.
Proceed to: FSBO Guide Section 4: Showing Your Home To Buyers