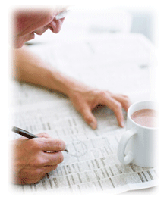 With a little time and effort, marketing your private home sale using classified advertising can be very successful. The use of an online property profile at a high traffic real estate listing website combined with either a newspaper or online classified ad can improve exposure to your sale tremendously.
In any real estate marketing plan it is recommended that you exercise multiple marketing options to reach as many qualified buyers as possible.
Advertising your private home sale using Classified ads online and in local newspapers can go a long way to getting prospective buyers attention and improving exposure to your sale.
According to the NATIONAL ASSOCIATION OF REALTORS®* , 24% of new home buyers first heard about their new home from the internet and 5% from newspaper classified ads.
Having an online classified and a classified ad in your local newspaper are clearly excellent ways to reach potential buyers.
Tips & Guidelines:
The key to successfully getting the right attention with a classified ad is to sell the buyer by carefully making them curious enough to want to learn more about your property . Most buyers will want to know three things right away:
– the asking price ,
– the location , and
– the number of bedrooms , if applicable.
Your ad needs to get them interested enough to take a more in depth look at your offer. Don't give so much information that buyers are immediately able to eliminate your home from consideration. For example, if your property needs repairs, leave that information out of the classified as its inclusion will often result in your listing being crossed off the potential buyer's list even though they would be interested if they were actually shown the property in person.
Be direct and to-the-point. Start your classified ad with the price to immediately attract the serious shoppers. This is also where you mention if the price is negotiable or if financing is available. " Financing Available " will appeal to serious shoppers since this is often the most confusing and difficult part of the buying process.
It's encouraging for the potential buyer to know that the party selling the property is working towards pre-qualifying prospective buyers. If you're working with a lender that's willing to pre-qualify, especially if they're a lender that can get the buyer a good rate, be sure to mention this as well. Highlight this fact by citing " Excellent Financing " or " Affordable Financing " is available.
Working with a lender is especially advantageous if you're getting calls from shoppers only attracted to low down-payment options. Send those prospects directly to your lender, explaining the property is only being shown to buyers that have met with the lender.
Some buyers won't be willing to do this, but you can rest-assured those that will are serious, qualified prospects that are truly ready to purchase your property. Take down the name of the lender if someone is claiming to already have been pre-qualified and be sure to verify the pre-qualification before proceeding. Don't feel, however, that you have to provide financing options if you can't or don't want to – Your ad will still be effective either way.
In addition to your price and terms, the first line of the ad should also include the property's location . Since many prospective buyers only thumb through classifieds it's essential your ad is accurate, albeit not too specific. The goal is to get the prospect interested enough to visit the property for themselves. It is important to remember that in most cases buyers will only look at houses in their price range and preferred location.
The next area of your classified ad should provide the specific characteristics of the property . In the case of a house or condo for sale start off stating the number of bedrooms. Then make reference to garage/parking spaces, backyard, fence, and/or street. Make sure you include newly renovated or remodeled areas and elements as these often appeal to shoppers.
Other notable features to mention include a patio or fireplace(s). Amenities increase the interest of a prospect in your property. Do not detail every little thing you think is great about your property. Remember the old marketing adage " KISS " ( Keep it simple stupid ). What you think is good about your property does not always appeal to everyone. For example, a property close to the local mall may be convenient for you but others may associate it with noise and high-traffic surroundings. You certainly don't want to clutter your classified ad with details that will make shoppers lose interest! Just focus on getting them to call you. They'll see all the amazing things about your property soon enough.
Effective ads serve one primary purpose: Telling the prospect what they want to hear about your real estate for sale.
They should be short, simple, and to-the-point. Below are some examples of well-written classified ads:
$349,000, NORTH YORK. Affordable financing available.
4 bedroom home, 2 fireplaces, attached-garage, FSBO.
Call 416-905-1234 or visit https://Propertysold.ca/208
$228,000, MISSISSAUGA. Lovely 2 bedroom condo, ample parking, quiet street, Private Seller.
Call 905-416-4321 or visit https://PropertySOLD.ca/098
$325,000, Scarborough, financing options available, FULLY RENOVATED 3 bedroom home, no backyard neighbors.
FSBO. Call 905-416-1234 or visit https://propertysold.ca/623
The above provide the prospect with the information needed, while giving them little cause to not consider the ad. As indicated, start with the price and follow with the location either bolded or in all caps. Classified ads can be an effective way to get more exposure. Just remember to aim the appeal to the serious FSBO buyers.
Recommended Online Classified Resources:
* REALTORS® is a registered trademark of the NATIONAL ASSOCIATION OF REALTORS®. PropertySold.ca Inc. is not associated with the NAR or the Realtor® trademark